The 2020-2021 Challenge is all about putting the strategies developed during the June 2019 PPPC community workshop into action.
Most of urban Palmerston North City is built on top of Te Kawau Stream catchment and the 2019 PPPC sampling results showed that it is also where the largest amount of plastic litter is accumulating. Te Kawau Stream is therefore the focus of our first, pilot, neighbourhood restoration project. Let's all work together to give it a clean up and some TLC!
In Spring 2020 we ran the first part of the 'Arohatia Te Kawau' project. The programme (shown below) was released at our Launch Event on Monday 31 August and a printable version can be downloaded here.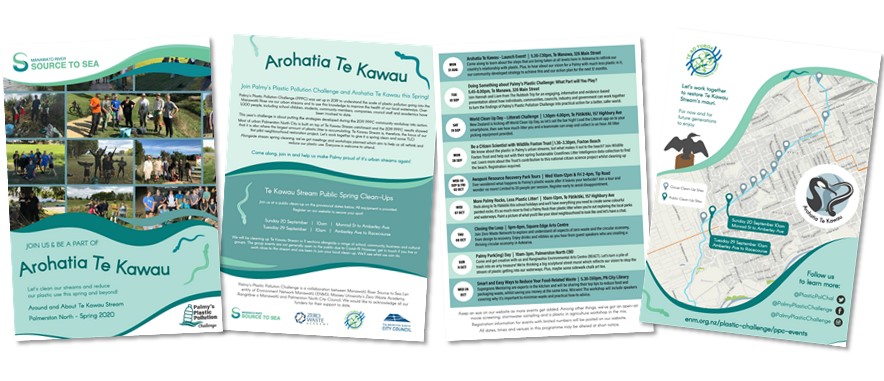 During September - November 2020, over 500 people were involved in cleaning up Te Kawau stream and helping to restore it's mauri. Our conservative estimation is that over 1.5 tonnes of rubbish were removed. In addition to the clean-ups, nearly 400 people came along to the events that were run in parallel about rethinking and reducing our plastic use. Plus we spoke to over 400 school students about our project and how we can take action together here in Palmy to work towards a future with less plastic in it. It was a very busy few months!
Selected media articles:
Check out the video of the clean-ups made by Runner Films:
After a short break over the summer, Palmy's Plastic Pollution Challenge is going to be busy again this autumn! We are planning to conduct citizen-science sampling at up to 40 stream sites across Palmerston North city and revisit the Te Kawau Stream clean-up sites. Ideally getting most of the sites completed by the end of March 2021.
Get involved!
We are looking for volunteers to join the core PPPC team to help support the sampling and clean-up events and to ensure that everything runs smoothly. The clean-up/sampling calendar is currently being scheduled and will include a range of school groups, community groups, local businesses and public events. Sessions generally last two hours maximum.

Volunteering activities are likely to include: setting up and packing down the site, welcoming groups and taking contact details, handing out and collecting equipment, helping with litter collection, weighing litter, etc. Nothing too onerous and the events are generally good fun!

If you are keen to support the PPPC events this autumn, we'd love to hear from you. Please complete this short form to express your interest and we'll be in touch soon.
Part of a group that would like to get involved?
The calendar is filling up fast, so please get in touch (via email to ppc@source2sea.org.nz) asap with some information about your group and your availability in March. We are allocating the sites on a first come, first served basis, though we should be able to accommodate more than one group at some sites.
---
---
---
Clean-Up Events
Stream Clean-Up
Mar 14, 2021, 2:00 PM – 4:00 PM
Amberley Ave, PN
Palmy's Plastic Pollution Challenge and All Saints and their neighbouring churches invite you to join them in cleaning up the Monrad St to Amberley Ave stretch of Te Kawau Stream.
Please wear suitable clothing, gumboots / sturdy shoes, and gardening gloves or similar if you have them. We'll provide hand sanitiser, sunscreen, some gloves and all other equipment. Plus some soft drinks and kai to celebrate our mahi!
All welcome.
Please register in advance here.
Events which are open to the public will appear here as details are confirmed.